Built for and by Energy Professionals
OpsAdmin is an online software application that creates efficiencies for retail energy suppliers with marketing, operations, and regulatory-centric tools. With compliance and efficiency in mind, OpsAdmin fills the operational gaps that exist in most retail billing and CRM systems.
Customer-Facing Tools and Brand Solutions for Marketing & Sales.
Enrollment Wizard
OpsAdmin enables REPs with multiple supplier brands in different jurisdictions the ability
to manage all enrollments from a single operational interface. The Wizard's front-end
enrollment engine is powered by the system's market configurations and delivers a clean
and utility-specific customer enrollment journey.
• Zip code search wizard entry
• API integration with supplier billing/EDI system
• Dual enrollment – power and gas
• Version-controlled doc display
• Market-specific customer authorization prompts
Customer Self-Service (My Account)
The My Account tool lets customers access and renew their account online. Usage and
billing data comes from the supplier's billing/EDI via API or file transfer processes.
• English / Spanish Toggle
• View/Pay Bills
• Set-up Autopay for Credit Card or ACH
• View Electric and/or Gas Usage
• View/Download Contract Documents
• Renewal Alerts and Renewals
Automation and Efficiency Tools for Operations and Regulatory.
Dynamic Content Manager and Integrated Version Control
OpsAdmin's Dynamic Documents and Autoresponders give suppliers the flexibility of modifying important documents or email templates from a central source of version control. If you are in charge of updating online rates or maintaining compliance with customer disclosure and marketing rules, you'll love this module.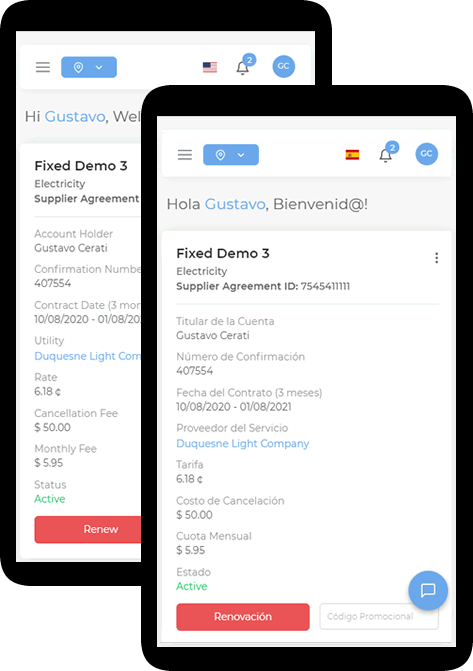 Automated Notice Generation, Fulfillment, and Tracking
OpsAdmin's automation is driven by Market and Utility-level rule configurations, ensuring that notices are triggered based on the specific regulatory rules for a state or utility.
Track the generation and fulfillment of:
• Welcome Letters and Emails
• Contract Expiration Notices
• Deposit Requests
• Contract Attachments
• Service Termination Notices
• Others
• Service Start Date Emails
• Early Termination Fee Invoices
• Enrollment Reject Notices
• Terms of Service, Contract Summary, etc.
• Collection Notices
MARKETING & ENROLLMENT
Secure API Integration w/ Sales & Marketing Vendors
Customized Enrollment Wizard for Multiple Brands & Markets
Rate Plan Manager / Zip Code Manager
Modular Permissions Enables External Agent Access
Mass Record Imports & Validations (Sales File Imports, Legacy Imports)
Google Tracking and Conversion Configs
Winback & Retention Queues
OPERATIONS
Secure API Integration w/ Ops Vendors & Merchants
Dynamic Contract Docs & Emails (Pre-Configured Templates Available)
Version Control (Multilingual & Price Plan Versioning)
Automated Letter Generation & Email Notices, Work Queues
Texas Enrollment Exceptions Queues (Deposits, Credit Review Process)
Customer Self-Service (My Account, Renewals, View/Pay Bill, Autopay)
Duplicate Enrollment Record Tracking and Statuses
COMPLIANCE
Commission Rule Configurations and Engine
Utility-Level Configurations & Rules Engine
Rescind List & Do Not Call / Knock / Mail List Manager
Customer Consent Tracking
Regulatory Audit Trails (Enrollments, Contracts, Notices)
Renewal Notice Tracker
System Audits and Controls
Call or email with questions or to request a demo ~ 832-323-3222 ~ info@stormcrest.com
Reduce Your Overhead Related to Customer Acquisitions
OpsAdmin was built to support the customer onboarding of any mix of in-house and outsourced sales channels and technical methods, including Enrollment Wizards, Sales and Legacy Account Importers, and APIs.
Reduce Your Operations Overhead
OpsAdmin's automation and exceptions management will make your retail operations more efficient and reduce your overhead by reducing your FTEs, even in modes of new market entry or system transitions.
Ensure Regulatory Compliance
With increased regulatory scrutiny and enforcement as permanent pillars of the retail energy landscape,
OpsAdmin is a tool for compliance and complaint managers supporting your operations.
• REPs / Suppliers in all retail markets (TX, New England, New York, PJM, electric and gas)
• Texas REPs
• REPs / Suppliers with multiple billing systems and/or brands
• REPs / Suppliers with previous regulatory issues due to operational errors or manual processes
• REPs / Suppliers unable to efficiently "account for" all non-enrolled (breakage) sales and enrollments